Gamber-Johnson has introduced the new Samsung DeX Heads Up In-Vehicle Kit, Armrest Solution, and Desktop Solution which allow for the docking of a Samsung Galaxy mobile smartphone and quick transformation to a full desktop experience both in-vehicle and in an office space.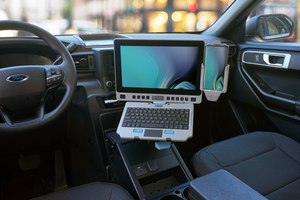 STEVENS POINT, Wis. — Gamber-Johnson, a leading supplier of rugged mounting solutions for fleet and public safety vehicles, forklifts, and other mobility applications, announced today that it has introduced the new Samsung DeX Heads Up Vehicle Kit, Armrest Solution, and Desktop Solution which combines the power of a Samsung Galaxy mobile smartphone with a touch screen display, USB hub, and keyboard for a full-featured and ergonomic computing experience. The solutions provide a seamless transition from vehicle to office for emergency service workers or fleet operators in enterprise markets.
Samsung DeX is a software platform available on Galaxy mobile devices that extends a smartphone or tablet into a desktop computing experience. Gamber-Johnson's new Samsung DeX In-Vehicle and Desktop Solutions allow users to simply insert or remove a mobile device from the dock, and quickly pivot the screen, keyboard, or armrest to get the best viewing angles while on the road.
"We partner with major technology equipment manufacturers like Samsung early in the development phase, and keep a close pulse on our customers' evolving mobile workspace needs," said Brad Decker, Public Sector Regional Sales Manager for Gamber-Johnson. "The  Samsung DeX Solutions address the critical needs of public safety and enterprise workers. These products provide a truly cost-efficient, rugged, safe, and ergonomic mobile workstation experience that transitions seamlessly to an office space."
Gamber-Johnson's Samsung DeX Solutions feature:
Heads Up In-Vehicle Kit
13.3-inch touchscreen provides a wide view display, a five-point capacitive touch for greater functionality, and 1,000-nit display for adjustable brightness
Rugged USB Hub with four USB 3.0 ports to connect multiple devices (including Gigabit Ethernet port, HDMI port, and USB-C port)
Rugged Lite Keyboard including a thin, lightweight, ergonomic feel. Quick-Release Keyboard Cradle enables the keyboard to be temporarily removed and mounts with a VESA 75 mm mounting pattern
Heads Up Smartphone Docking Station*, Mounting Bracket, and Articulating Mount positions the smartphone in the driver's view to allow the use of the phone as a second screen or a touch pad device
*Heads Up Smartphone Docking Station and Rebel Smartphone Case must be purchased separately to complete the solution
Armrest Solution
 A complete DeX vehicle solution that positions the smartphone dock in the vehicle armrest
Combines a 13.3-inch touch screen, Rugged Lite Keyboard, Rugged USB Hub, and Quick-Release Keyboard Cradle
Desktop Solution
 Desktop Smartphone Docking Station combines a Samsung Galaxy smartphone with an ergonomic desktop office experience
Zirkona Small Joiner allows users to rotate their small, lightweight device to any angle
 Zirkona 2" Extension allows users to gain height in various applications
Rugged USB Hub
Gamber-Johnson's Samsung DeX Solutions endured extensive vibration, shock, crash, and lifecycle testing to guarantee its safety and robust electrical features with no degradation or flickering of video output. The products also perform at temperatures higher than comparable products on the market (-20°C to 70°C), will not eject or lose connection during hard shocks, and may be installed precisely to a user's preference.
Decker continued, "The innovative features and cost-efficiency of the new Samsung DeX Solutions provide fleet operators in the public safety and enterprise markets with the highest versatility, functionality, and user comfort."
To experience first-hand the newest solutions available in mobile workstations, docking stations, cradles, motion attachments, and more, visit www.gamberjohnson.com/SamsungDeX.